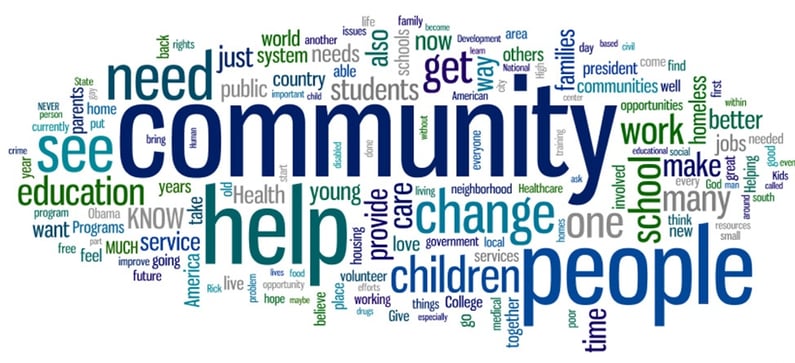 "Creating a strong business and building a better world are not conflicting goals- they are both essential ingredients for long-term success"
--William Clay Ford Jr.
Executive Chairman, Ford Motor Company
These words spoken by William Clay Ford ring truer than they ever have before. Long gone is the time where a businesses only goal and responsibility was to their shareholders and bottom line of their business.
Consumers today expect businesses they patron to not only deliver the best product or service, but they also expect these businesses to be active in the communities in which they serve and accept their responsibility and roles to create positive initiatives in the social landscape.
Benefits of Community Involvement
#1 Customer Perception
Customers seek companies they trust and recognize. A company involved in community and citizenship engagement is key for positive image. Being engaged outside of the office within your communities establishes that personal connection with your consumers and potential future consumers. With the emergence of social media one personal connection with a customer can potentially open up the door to dozens of others. Involvement in the community and alignment of your company's mission, vision and values to a social platform that makes a positive change in your communities and beyond makes a statement and impact to consumer perception.
#2 Employee Engagement and Retention
Studies show 61% of job seekers put a company's social responsibility and community involvement as one of the most important factors in choosing a company for which to work. This aligns with the fact employee engagement and retention increases when a company engages in corporate citizenship. Employees are seeking companies that will allow them to utilize their skills not only in the workplace, but their abilities and commitment to helping the communities and causes they wish to impact in positive measures. Companies recognizing their employees' efforts for outside citizenship engagement will see a more positive posture in the workplace. Keeping morale and engagement high in order to keep employee turnover low is imperative.
#3 Improvement of the Community Itself
Being involved and contributing to the uplifting of a community is a great way to ensure success. A strong community seeing the positive benefits of companies' citizenship engagement initiatives brings a loyal and supportive customer base and increases economic growth within these communities and eventually will spread to a wider base locally, nationally and beyond. This may include investing time and money into programs aligning with your companies mission, vision and values that in turn promote the long-term influence in our communities and world.
About T&T Creative Group
T&T Creative Group is dedicated to building innovative initiatives that impact local communities to create more employment opportunities, individual training platforms and better resources for charitable causes, while enhancing the brand of local corporations through their professional offerings of Digital Media, Corporate Development, Marketing Education, and Community Engagement.
Minority owned and headquartered in Raleigh, North Carolina, T&T Creative Group is impacting brands and communities across the southeastern region of the United States with plans for national expansion. A company which prides itself on following the business platforms and strategies that lead their clients to success, Community engagement is a major part of their mission, which embraces many causes such as Alzheimer's Disease, Autism, and bridging the technology divide for children and seniors. (www.ttcreativegroup.com)
Mission
Build innovative initiatives that impact local communities to create more employment opportunities, individual training platforms and better resources for charitable causes, while enhancing the brand of local corporations.
Vision
Create digital media campaigns that allow our customers to reach their
desired audience
Develop and increase the pool of future entrepreneurs

Increase participation level in STEM programs among children who do not
have adequate resources.
Provide additional funding and resources for public school Autism programs

Provide additional funding and resources for local Alzheimer's programs
How do you get your business aligned in Corporate Community Engagement?
Passion, dedication, excitement, and involvement from company executives and leaders are three factors of developing your promotion of corporate citizenship within your team. Whether you are an entity of 5, 50, 500, 5,000 or 50,000 employees, no corporation is too small or too large to engage in creating corporate citizenship initiatives aligned with your company's mission, vision and values.